MI40X – Custom Meal Plans – Shred
IMPORTANT: Do Not Close This Window Or Click The "Back" Button – Pressing your 'back' button could result in a double-order
Okay, so you're re not ready for a meal plan package to speed up your muscle-building just yet…
Or maybe you're simply confident in your ability to figure it all out by yourself…
No problem.
But before we get started, I want you to quickly reach down and pinch the fat that's just above your belt.
How much can you pinch? More than half an inch? More than an inch?
Now, reach around, and pinch your sides – your so-called 'love handles.'
How much can you grab?
Most guys can grab A LOT MORE than a handful of fat in one or both of these areas.
If your goal is fat loss right now… or come the end of your bulk…
Obviously, that fat has to go.
We're agreed on that, right? Say "yes" if you agree that you want that nasty-ass fat GONE FOR GOOD.
I mean, what good is building a lot of muscle if you carry around all that fat?
The good news is that your MI40 CEP Training System is going to burn off fat as you build muscle. The muscle you gain will be fueled by your own fat stores, so over the coming months, you can say, "so long!" to some of that fat you've just grabbed…
That's the GOOD news.
But while your fat loss will be nice and steady… it won't be lightning fast…
And THAT is what a lot of guys like YOU really want – lightning fast fat loss where your abs and love handles are…
In reality, you can have lightning fast fat loss without changing your CEP Training at all…
And, you won't just melt off the fat you were pinching… that really ugly body fat that keeps your abs from seeing the light of day, and that nasty fat that folds over your jeans and swimsuit, making you look soft, even if you're packing on the muscle…
To speed up the fat-burning process in those two stubborn fat areas, either right now, or when your bulk is done, dialing in your nutrition to get the fastest fat loss possible takes time, thought and a lot of planning.
If you want to torch away the fat in record time to uncover those deep CUT ABS, this is your one opportunity to get your hands on a personalized rapid fat loss meal plan system, from me, at such a ridiculously low price…
…a set of meal plans that I personally GUARANTEE will see you strip away that unwanted belly fat, all while preserving every oz of ROCK HARD muscle you have worked so hard to build…

If you were thinking about following a 'generic' meal plan you found floating around in cyberspace, or figuring it all out by yourself, then there's something I want you to know…
Your nutrition and training should ALWAYS work together for the greatest results…
Unless you're one of the genetic elite (and trust me, you're probably not – hell when it comes to fat loss even I'm not!), you simply CANNOT separate training and nutrition without compromising your results.
If you're not taking in the RIGHT balance of carbs, protein and fats on the right days at the right times, then you can't expect to achieve the lightning fast results you're dreaming of.
Every single week of the MI40-CEP Training system has a different focus… the workouts change, so logically then, so should your nutrition!
This opportunity is for you if you want all the thought, all the planning and all the guesswork removed…
ZERO time wasted
100% RESULTS!
Listen, let me break this down for you to make this a no brainer decision:
My clients literally pay me THOUSANDS of $'s for a nutrition plan… why?
Because I KNOW how to get the job done!
By picking up my MI40-X Rapid Fat Loss custom meal plans today, you won't just get one meal plan, you will get SIX meal plans written by me for just $97… one for each phase of the program!
If you're serious about melting away your belly fat, not in months or years, but in WEEKS — yes, you read that right, I said, "WEEKS!" — then take action now before I'm forced to increase the price…
…I don't have the time to sit around writing out meal plans all day, so this offer won't be available for long…
I'm a father of 3, a husband, a business owner, a trainer, and of course, a Pro Bodybuilder.
My time is extremely valuable.
BUT, if you're reading this, then you still have a little time left…
So before the price goes up, quickly press the green button below… and I look forward to writing out the perfect fat loss plan for you!
…rapid fat loss, made super-simple, at a ridiculously low price.
It doesn't get much better than that.
Click, "Yes", below, and see you on the other side.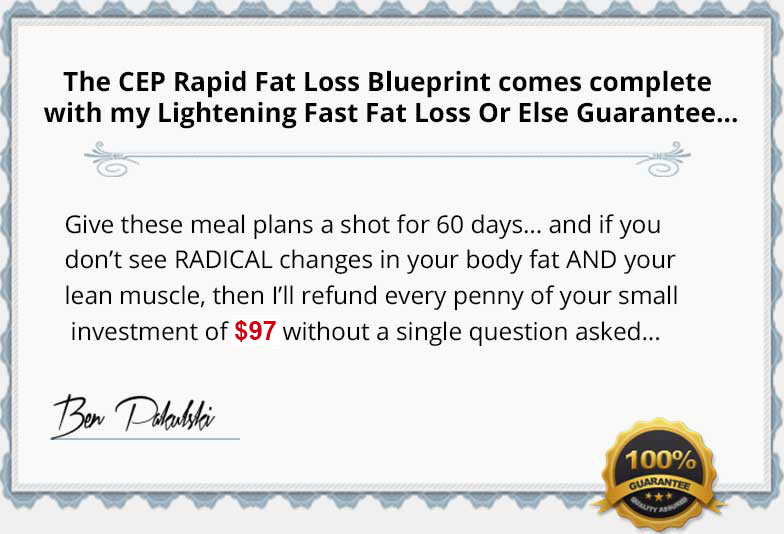 NOTE: As these meal plans are personalized to your needs, after purchasing you will be contacted with access to a form through which you can submit various information about you and your body (weight, body fat%, goals etc.). Within 72 hours of submitting that information, your meal plans will be organized and emailed to you.